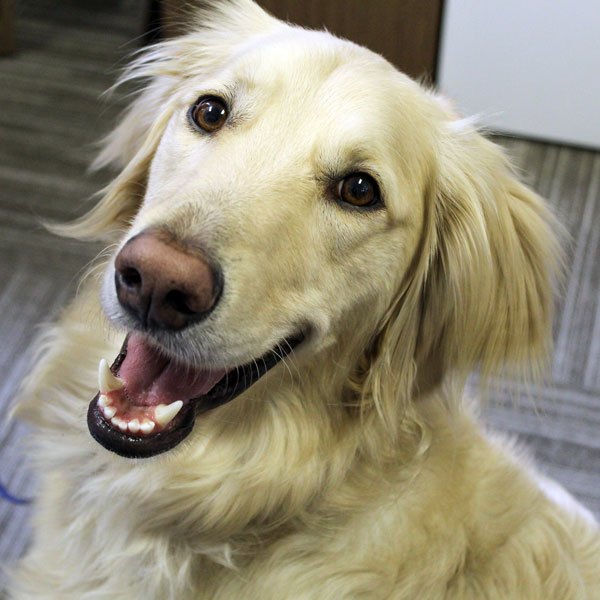 Riggins
---
Real Goldendoodle | VP of Barketing
THE PROFESSIONAL
Responsible for chewing on the building's framework, barking during customer calls…and one time p**ping in the heating vent (sorry, Brent!)
With Interior Solutions since 2017.
THE PUPPY
Thanks to doggy dna testing, was confirmed a real goldendoodle in 2018, despite suspicions otherwise… we threw a reveal pa-w-ty, of course (below)!
Named after an equally-naughty hottie — Dillon High's #33, Tim Riggins.
Loves Chick-Fil-A, fetch, his girlfriend Maybe (pictured), bed skirts, rug ends and rolling in the snow.
Very promiscuous — way into French kisses and love bites. Hide yo kids, hide…well, everything.
So cute it hurts.
PURPOSE STATEMENT
I only came for the cake.
COWORKER CONCERN
"Riggins is paws-ibly the worst VP we've ever had! His go-to-barket strategy involves jumping customers and then kissing them clean. Very inappropriate for the workplace! Plus, he steals all our food. Definite nepuptism in his hire."
– Everyone
BIG SCREEN
We've heard doggos are excellent judges of character, so we put Riggins on blast to confirm what 99 percent of our clients are already saying about us…that we're the ones to trust! Also, is there anything better than a hip (and humble!) bandana'd pup?!
To score your own doggy bandana, email awallace@interiorsolutions.net, and we'll get one to you (for free!)! Unisex American flag (as shown on Riggins), tribal print and chair patterns available!